There are multiple ways to search for DOI.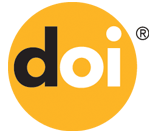 The easiest way is to click on the link in Pure to the pdf of the article. It will send you to the publisher's website.
If there is no pdf or link, there are several other options. Copy the title of the article and search for it on/in:
Publisher's website, for example PlOS ONE
Bibliographic databases such as:


There are also other databases based on discipline, where you search for a DOI.
It is always good idea to check the DOI here: http://www.doi.org/