Het kan voorkomen dat je aan Research output bijvoorbeeld de bibliografische notitie 'No DOI' hebt toegevoegd omdat er geen DOI beschikbaar is voor deze specifieke publicatie. Als je een rapport wilt maken van alle output zonder DOI, maar deze output daar niet steeds weer in terug wilt komen, kan dit als volgt.

Open een rapport, bijvoorbeeld Report of articles with no DOI (of stel een nieuw rapport samen.)
Klik op Add filter
Of op het plusje Add filter to this column (en dan Add filter)
Kies Notes – Bibliographical note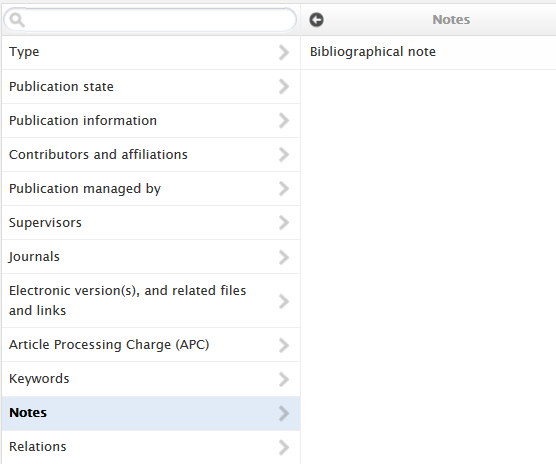 Kies of je de selectie inclusief (Include) of exclusief (Exclude) het trefwoord wilt. Vink Engels aan en vul bij Bibliographical note de tekst in die je zoekt. In dit voorbeeld No DOI. Of beter: *No DOI*: door de sterretjes worden ook de velden meegenomen waar meer staat dan No DOI.
Let op: de zoekopdracht is hoofdlettergevoelig (no doi wordt dus niet meegenomen!)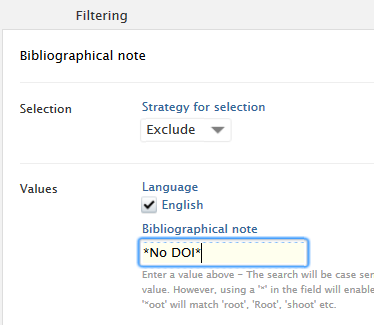 In het rapport ziet dat er als volgt uit: