Bij Research output horen alle vormen van publicaties die vastliggen en bibliografisch te traceren zijn. Bijvoorbeeld: gedrukte en digitale tijdschriftartikelen, boeken, papers van een congres, of webpublicaties.
Publicatietype bepalen
Vanuit je persoonlijke pagina, die opstart Wanneer je inlogt in Pure, kun je een nieuwe publicatie invoeren door te klikken op


of het plus-teken dat achter 'Research output' verschijnt wanneer je daar je cursor overheen beweegt.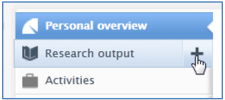 Kies het publicatietype dat je wilt invoeren:

Elke type bevat op zijn beurt één of meerdere subtypes. Helpteksten geven een nadere toelichting op het type.